Inventory Basics - How to Set Up SKU's
SKU's, or stock keeping units, are codes appointed to single items of stock. If you are buying in products from a manufacturer, they may have already assigned SKU's and it is your decision to work with those or assign your own.
There are two main options to consider when setting up your own SKU's, you can choose to generate 'smart' or meaningful codes, or you can go with random ones. There is a case for both, and it largely depends on the nature of your business and how many products you expect to be tracking.
Assuming that you are starting from scratch, here are some tips to help you set up your SKU's.
Be consistent. Choose a format and stick to it. You can alter the format later, but it is best practice to create the right format for your business from the start.
Make the codes recognisable to humans. This will help everybody, and will result in fewer mistakes. Keep them as short as possible and consider using letters from the start of your item name e.g. Alexandra Shift Dress ALD-BLK-10 tells me that this item is called Alexandra (AL), is a dress (D), and is black (BLK). The final number after the dash is the dress size.
Try to keep the codes short . Accounting software generally expect shorter codes to be used, for example Xero has a maximum code length of 30. Similarly if you use an automated fulfilment or inventory management solution you could have problems with length limits. Also, think about presentation of your data, if the SKU is very long it will take up a lot of space on invoices and order forms. Even if these considerations are not important to you right now, they probably will be in the future.
If you are using words, list them in the hierarchy of the item. Think about how you would describe the item in words, in my example above we would describe our item as Alexandra Shift Dress, black, size 10.
A basic template for most products sold online is [abbreviated name]-[abbreviated colour]-[size] Depending on the software you are using you may have control over the way the colours and sizes are annotated, or it may handle that for you automatically. If other variants are involved just make sure they are set out in a meaningful order. For example, in the screenshot below we have [Betty-Dress-Scarlet-size 6] in the first row.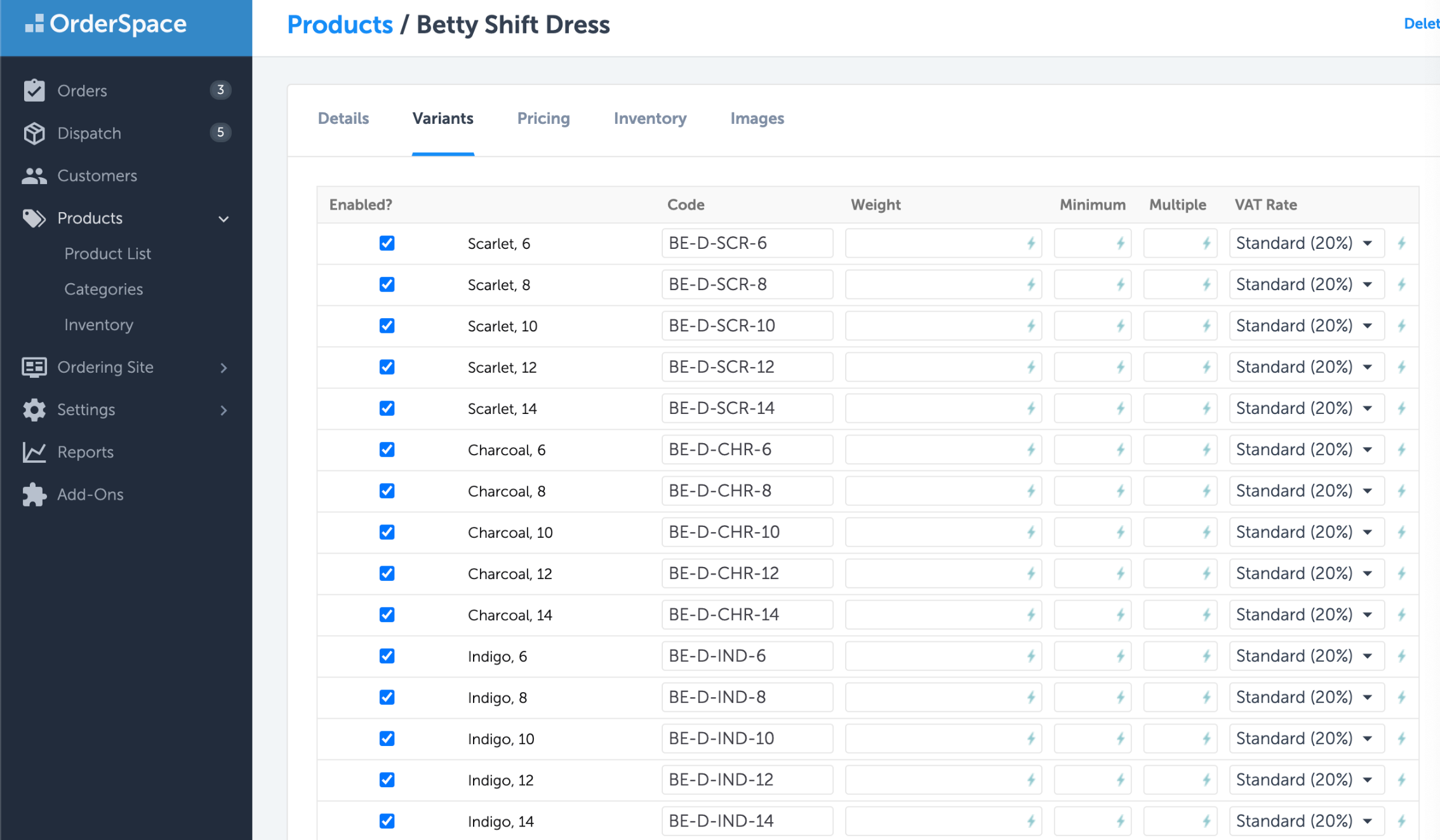 Avoid letters that could be confused with numbers: - O, I and L are the worst. Also avoid symbols wherever possible, both humans and computers can easily confuse these. Stick to alphanumeric codes.
If you decide to use manufacturers serial numbers be careful! If you change manufacturers the codes may become meaningless, but this may not matter to you if you are simply using SKU's as a unique identifier.
There is no escaping the fact that SKU's are essential, without them you won't be able to uniquely identify an item, locate it efficiently or effectively report on its activity. However, if you follow my advice above, the setting up process will be straightforward and easy to expand as your wholesale product catalogue grows. We also help by providing a suggested SKU when you set up products manually in Orderspace, of course you are free to overtype our suggestions with your own.
Take a look at our ever-growing collection of start-up tips written especially for small businesses starting out in wholesale.
Further Reading:
4 Ways To Get Bigger Orders From Your Wholesale Customers
Getting The Best From Your Wholesale Customers
Combatting Stock Control Problems
Efficient Order Processing
photo credit: Tomás Fano (license)