We have just released a significant update to OrderSpace, bringing an improved ordering site experience for mobile users, editable navigation and much more.
Ordering on Mobile
Your ordering site is now fully optimized for mobile, meaning customers can order with ease while on the move. Every part of the site has been simplified and updated for mobile screens to ensure that mobile users can use the site as easily as tablet and desktop.
Ordering tables now come with a popup info panel containing all the information for a specific item. This allows us to keep the ordering interface simple while providing all the necessary information exactly when it is needed.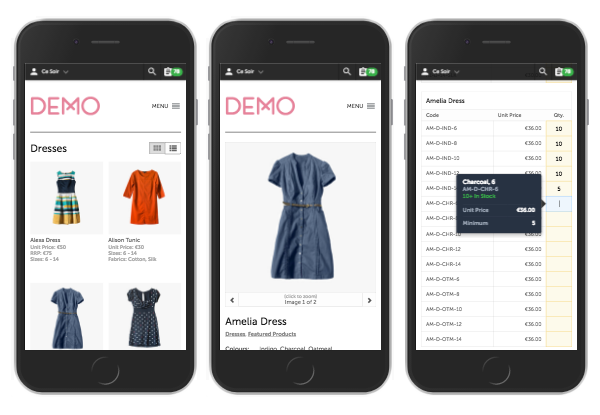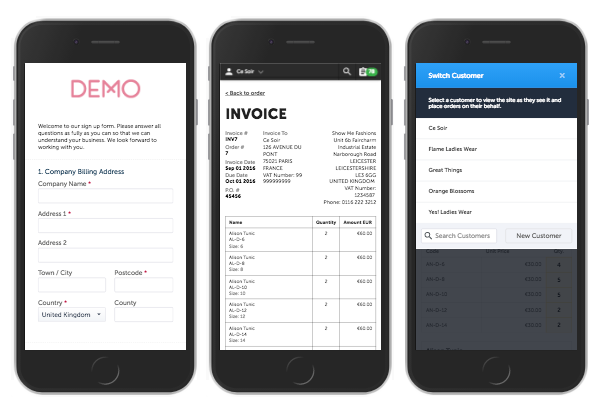 Responsive Design
In support of our mobile update we have made the ordering sites fully responsive, meaning that they will scale up or down to match the size of the screen. On larger desktop screens, the site will scale up wider than it did before with larger images and text to match the size of the screen. Product images should be at least 1000 pixels wide to look their best on all screen sizes.
Customize Your Site Navigation and Header
With this update, the navigation bar at the top of your ordering site can be edited in the admin from Settings > Navigation. To accommodate longer navigation bars, we have also added the option to position your logo above and to the center of your navigation. This can be changed from Settings > Theme.
Admin and Select Customer Buttons
Previously, ordering sites had a blue banner at the top for admins and sales reps to switch between customers and go back to the admin site. These links have now been moved to the black bar, and the blue banner removed. The links will only appear if you are logged in as an admin or sales rep.

The admin link is now much more useful than it was before, taking you to the page in the admin associated with the one you have open in the ordering site. For example if you are on a product page it will take you directly to the same product in the admin, if you are on a category page it will take you to the category, and so on.
These changes have now been rolled out to all our customers. As always, we are continuing to develop OrderSpace and have more improvements planned for the coming months.